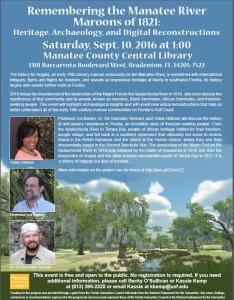 Saturday, September 10th, noon
Manatee CountyCentral Library
1301 Barcarrota Boulevard West
Bradenton, FL 34205-7522
The history for Angola, an early 19th century maroon community on the Manatee River, is enmeshed with international intrigues, fights and flights for freedom, and reveals an impressive heritage of liberty in southwest Florida. Its history begins with events further north in Florida.
2016 brings the bicentennial of the destruction of the Negro Fort on the Apalachicola River in 1816. Join us to discuss the significance of that community and its people, known as maroons, Black Seminoles, African Seminoles, and freedom-seeking people. This event will highlight archaeological insights and will unveil new virtual reconstructions that help us better understand all of the early 19th-century maroon communities on Florida's Gulf Coast.
Professor Uzi Baram, Dr. Ed Gonzalez-Tennant, and Vickie Oldham will discuss the history of anti-slavery resistance in Florida, an incredible story of freedom-seeking people. From the Apalachicola River to Tampa Bay, people of African heritage battled for their freedom, sought refuge, and fell back in a southern movement that ultimately led some to Andros Island in the British Bahamas and the others to the Florida interior, where they and their descendants fought in the Second Seminole War. The destruction of the Negro Fort on the Apalachicola River in 1816 was followed by the Battle of Suwannee in 1818 and then the destruction of Angola and the other maroon communities south of Tampa Bay in 1821. It is a history of tragedy but also of survival. More information on the project can be found at http://goo.gl/OAyUEZ.
This event is free and open to the public. No registration is required.